Nel suo grembo / Evra kedebra
Painted backdrop, projection (rotoscoping), telephone, sound
2021
The video projection shows three women dancing: My maternal grandmother, my mother, and I. They appear to be ghosts or halluncinations, they are joyful and an energy, an electricity, connects them. This silent projection was made using rotoscoping, an old animation technique that involves adding hand-drawn elements frame by frame to a film, as seen in films like Mary Poppins (the original version). This effect is reinforced by the painted backdrop onto which the characters are projected, making them even more unreal and ghostly. The feeling that emerges from it is both joyful and unsettling. Like a gentle terror, or like when we play at scaring ourselves as children.
The sound installation represents the bond that unites me with my paternal grandmother. This bond is represented by sound. Her "pensieri," little poems that she writes, are recorded as if on an answerphone, played endlessly through the handset.The glittering vintage telephone has an absurd and timeless quality. It is both a link to the past and a link to something very real: the voice of a loved one on an answering machine or in voicemail messages, allowing us to preserve a part of that person and revive their memory.
For me this work is the starting point of a reflection on the physical representation of an interior, intimate space. This installation was created in Switzerland at "Le Manoir de la ville de Martigny", for an exhibition curated by Julia Taramarcaz as a tribute to the first known feminist exhibition Womanhouse, in 2021 – 2022.The time of the covid crisis pushed me to think about a way to make my installation accessible despite the restrictions and the climate of anxiety. I thus started a process of research, finding different versions of my work in multiple forms in order to allow an access to as many people as possible. This approach has allowed me to question the rigidity and durability of artistic productions. The work is often too dependent on the environment in which it is shown, which is highly problematic, as the Covid crisis has shown us. Being confronted with these limits, I was enabled to rethink the whole existence of a work of art: should the work be dependent on a particular place or support? Does the work continue to exist if it is not seen? What happens to the work once the exhibition is over? These questions now direct me towards a more flexible, more protean, more independent and more accessible production.
Transformation, transmutation rather than immutable matter. By allowing the work to have several forms, we extend its life span because it can live on different supports, in different places, digital or physical. Once freed, stripped of this fixed identity, the work becomes more organic, and can, according to the support or the place, dialogue in multiple ways with the person who looks at it, listens to it, etc. by provoking different emotions or sensations each time. In our daily life, the three realities that are the most familiar to us today: the material (the palpable), the digital and the imaginary, tend more and more to merge, to overlap. These different views can be combined in such a way as to offer us (almost?) infinite possibilities.
If you want to buy one or more "Pensieri" you can go objkt to get your digital, limited version for less than 10 euros.
About Cécile Giovannini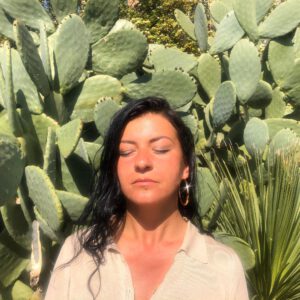 She is an Italian-Swiss artist/researcher. In 2018 and 2019, she was selected by competition to stay successively in Ticino and then in Genoa for artistic residencies. Narrative is one of the main threads of her work. As a teenager, she developed her passion for cinema and collected video tapes which she bought for sale in the local video store where, once she had finished her studies, she worked for two years. During this time, Cecile watched over a dozen movies a week and reinforced her passion for well-told stories. In addition to film, comic books, Catholic sacred art, pagan legends and popular art forms feed her artistic work through which she speaks of an inner world oscillating between dream and reality. Her work explores the relationship between the body and its environment through various mediums like painting, animation, comics, installation or video. In 2019 till 2022, she was awarded with the Artpro multi-year grant, for her graphic novel project. In 2022, two of her visuals receive the Merit award from the prestigious 3X3 mag, NY