Anyu – or how Stalin lost his nose
Projection on Drawings, 7:52 min
2016 / 2023
Anyu is a film between animated film, experimental film and animadoc. It is an approach to the biography of the filmmaker's mother and grandmother. It gets to the bottom of the essence of memory and visualizes it in a collage-like way.
A long, long time ago in Eastern Europe, mother and child are separated by the consequences of an uprising against the Soviet occupation. While the mother is forced to leave the country in a clandestine escape, the child is raised by a group of geese. After 5 years, the child sets out to meet her mother again in exile and faces her as a stranger. Anyu, means "mother" in Hungarian and is a story about the inner life of a child who has fled. Anyu is also a story about the difficulty of a mother to stand between family and revolution and to be exposed to a completely different external pressure than a father. The latter goes home a hero and the former a bad mother.
About Lina Walde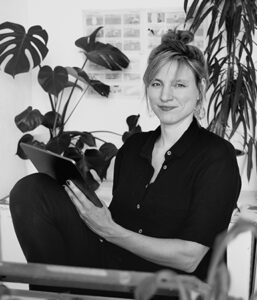 Lina Walde works at the intersection of experimental and applied art.
She is an animator and illustrator as well as a curator for short film screenings at City Kino Wedding. She works in motion design, graphic recording and projection mapping for plays. She is also a musician and sound artist. She taught 2D animation to students and was a freelance lecturer at the UdK Berlin and the Kunsthochschule Weißensee. Her latest short film "Desert Critter" is currently screening at numerous film festivals worldwide. She studied at the Kunsthochschule Kassel in the classes Animation Film and Virtual Realities with Martina Bramkamp and Bjørn Melhus.