ERMO
Azujelos (portuguese tiles), part of a boat, screen, projection 2:35 min
2021 / 2023
ERMO is a maritime thriller, an abstracted version of the fairy tale "Undine" by Fouqué. The gloomy atmosphere tells a story of getting lost and being overwhelmed in face of the overpowering. It is about the longing for adventure, for distant lands and the sea. The work was partly created in Portugal. There, the tiles on houses are as much a country-specific feature as the connection to the sea. For us as artists, they symbolically represent longing, just like the sea with its infinite vastness.
The video is a rotoscoped frame by frame animation. From found footage we first created a template film, whose individual frames were then printed on A4. We then painted over 1800 frames with tempera paint, acrylic chalk and colored pencils. The result was a moving painting, a challenge for the eye and a lasting impression on the viewer.
About Studio Liebe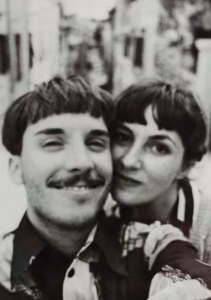 Studio Liebe is a young German artist duo consisting of Elisabeth and Benjamin Geyer. The two playfully explore the broad fields of film, animation and music, and their staging in space.
Their paths first crossed while studying communication design at THWS Würzburg under Henning Rogge Pott, where they developed their interdisciplinary understanding and playful approach to animation. From there, they moved together to Weimar for a media art and design master's degree at Bauhaus University. Their first animated film ERMO (2021) gained great recognition and was shown at ITFS, Kurzsüchtig and various festivals in Germany and abroad. The music-film project was funded by Initiative Musik a program of the German Ministry of Culture for aspiring young artists. A year abroad at the Escola das Artes of the Universidade Catolica Porto, strengthened the free artistic tendencies of Studio Liebe, where they participated in two major exhibitions in Portugal, among others.