Jäger und Sammler (hunter and gatherer)
Film, 1:42, Screen, drawings, nylon threads, magnets
2022
In the work "Jäger und Sammler" (hunters and gatherers), the influence/use of new technologies in hunting and foraging becomes a theme. Cybernetics (κυβερνητικός kybernetikos "helmsmanlike") plays a central role here, because the tools used, VR goggles and the drone controlled by them, symbolically show the communication between man and machine. It becomes apparent that the human/hunter does not communicate unilaterally with the drone by controlling it. Instead, it allows him other perspectives on nature and on the world to which he reacts. A moment similar to intoxication or trance arises, which stimulates associations / fantasies of archaic hunting methods and a relationship with nature that is alien to civilized man. The technological tools become a medium, as well as a filter, between man and nature.
About Valo Valentino Berndt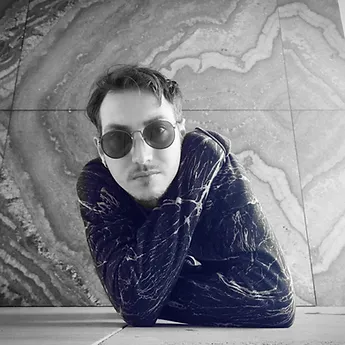 Valo Valentino Berndt is a Mexican-German artist based in Stuttgart, DE. His artistic practice bridges the areas between art, sound, cybernetics, environment and cultural history.